Our Victories
Greenpeace works directly with communities in Australia and across the world to protect the environments they call home.
Thank you to all of our supporters
It's an exciting time to be part of the Greenpeace crew! Take a look below at the awesome campaign moments our supporters have been a part of by taking action online and in the community.

People power is the very heart of Greenpeace. A huge thank you to all those who have joined the movement to build a better future for our environment.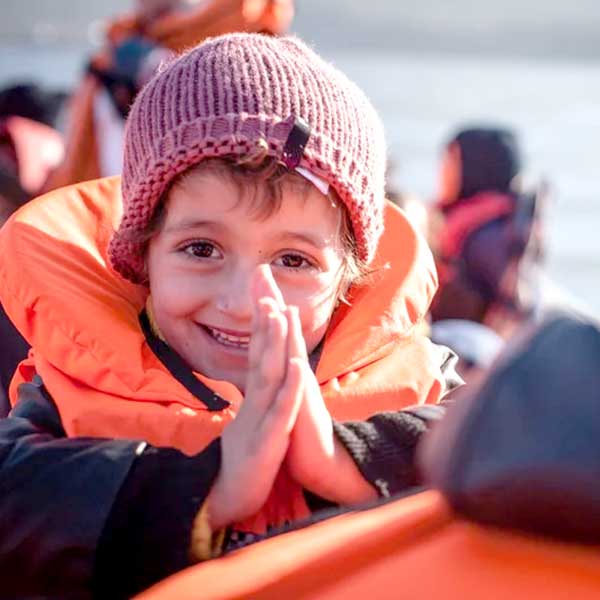 Here are just some recent victories that you've helped us achieve with the power of people.

2023
Global Oceans Treaty
Almost 20 years of campaigning the United Nations officially landed on an agreement for a Global Ocean Treaty.

This historic win will help secure protection for 30% of our global oceans and is blazing the pathway to a healthy climate future. Our oceans will be safer than ever thanks to over 5.5 million people that supported this campaign.

The agreement of this Treaty keeps the 30×30 target – protecting 30% of the world's oceans by 2030 – alive. It provides a pathway to creating fully or highly protected areas across the world's oceans. There are still flaws in the text, and governments must ensure that the Treaty is put into practice in an effective and equitable way for it to be considered a truly ambitious Treaty.

The text will now go through technical editing and translation, before officially being adopted at another session. This Treaty is a monumental win for ocean protection, and an important sign that multilateralism still works in an increasingly divided world.

Show your support and help secure a strong treaty by signing our global petition.

2022
Turned AGL, Australia's biggest climate polluter, green
Last year, Greenpeace Australia Pacific, together with a diverse group of people and organisations, took on AGL and won. AGL's transformation from Australia's biggest climate polluter to one of Australia's biggest climate solutions is now underway and has been one of the most dramatic in Australian corporate history.

AGL advertised itself to the Australian public as green and environmentally responsible. But a deeper dive into the company revealed this couldn't be further from the truth.

A Greenpeace investigation revealed that AGL was Australia's biggest climate polluter by a long shot. 85% of their electricity came from burning coal, and as the owners and operators of three of the largest coal-burning power stations in the country, they were acting as a dam wall to a flood of renewable energy into Australia.

We knew that if we want to transform Australia's energy system, we needed to start with AGL. AGL's transformation from Australia's biggest climate polluter to one of Australia's biggest climate solutions is now well underway. It has been one of the most dramatic in Australian corporate history.
Our new film Power Play is the story of how Greenpeace and our supporters, along with a diverse group of people and organisations waged a strategic campaign against AGL and its leadership team; challenging the company's false clean and green image, turning away its customers, threatening its funding sources, and convincing its shareholders to take action.
Read more at https://www.greenpeace.org.au/act/agl

2022
Pushed big corporates to cut emissions
Telco giant Optus become the final major Australian telco to commit to switch to 100% renewable electricity.
Greenpeace Australia Pacific's highly successful Re-Energise Campaign pushed 21 major companies from Coles and Woolworths through to Bunnings and Kmart to commit to power their businesses with renewable electricity by 2025.

2020
Equinor's withdrawal from the Bight
Equinor quit the Great Australian Bight, following BP and Chevron, who also abandoned their risky drilling plans.
This comes after Chevron and BP, the other major oil companies, quit their plans to drill for oil in the Great Australian Bight following relentless campaigning from Greenpeace and our supporters.

Citing the Bight as "not commercially competitive", Equinor abandoned its plans to drill 2.5 kilometres deep, which would've disturbed the unique ecosystem of the Bight. The company was the last major oil company with a permit to explore drilling prospects in the Bight.

We succeeded by petitioning BP to withdraw its oil drilling plans and by pressuring NOPSEMA to do what's right by our fragile ecosystems, setting a strong precedent for future oil giants who may seek to exploit the natural resources of the Great Australian Bight.

2019
Exposing coal's dirty ties to politics
Over 200,000 Australians viewed and shared our investigation into the influence of coal in politics.
In a summer rife with destructive bushfires, which have been made more severe by the climate crisis, we uncovered the federal government's vested interests in the coal industry, which has stifled effective and necessary action to fight climate change.

In our documentary "Dirty Power", we worked with investigative journalist Michael West to expose the secretive ties between political figures, major industry members, and media organisations which continue to undermine and thwart tangible climate action.

Our documentary has been viewed and shared over 200,000 times, demonstrating the overwhelming demand from community members for effective action to limit climate damage and transition to clean energy.

2018
Supermarket ban on plastic bags
Woolworths and Coles, two major supermarkets in Australia, committed to phasing out single-use plastic bags.
Two major supermarkets in Australia, Coles and Woolworths, committed to phasing out single-use plastic bags and made further commitments to reducing plastic in their supply chains.
This is a significant win as billions of plastic bags are handed out at the checkout of these two supermarkets alone. Now, the supermarkets will offer reusable alternatives to these bags.
Once they enter waterways, these plastics can often be mistaken for food by marine animals like sea turtles. As plastic bags can take 20-1000 years to break down naturally, they can stay lodged in animals' airways and cause death.
According to the National Retail Association, the switch to reusable bag options at these two supermarkets has seen an 80% drop in plastic bag consumption in Australia. With this move by the two major supermarkets in Australia, other retailers will hopefully begin phasing out single-use plastics and introduce more sustainable alternatives.

2018
Rejection of National Energy Guarantee
Australians called on their state energy ministers to reject the National Energy Guarantee.
In 2018, the Australian government proposed the National Energy Guarantee (NEG), which would actually inhibit renewable energy projects, drive up emissions, and increase power prices. This stirred concerns about Australia not meeting its targets from the Paris Agreement, which aims to build a global effort to combat the climate emergency.
Greenpeace Australia Pacific launched a crowdfunder, Save Solar, to stop the policy going through. In a matter of weeks, we raised nearly $55,000 to expose the then-Prime Minister Malcolm Turnbull's dirty power plan through TV advertising in Victoria and Queensland. The advertisements called for Australians to contact their state energy ministers and tell them to reject the government's NEG.
The NEG was effectively rejected under Malcolm Turnbull's leadership and was subsequently dumped by Prime Minister Scott Morrison.
Help us win our next big victory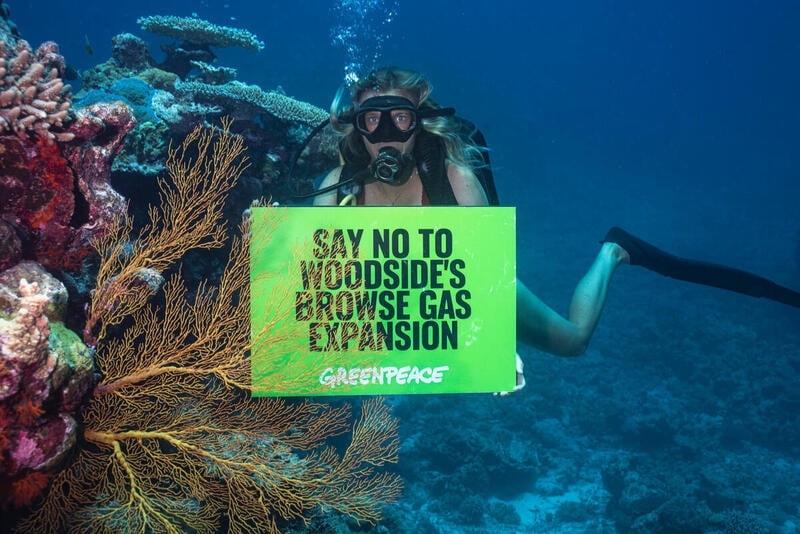 Stop Woodside's Dirty Gas
Fossil fuel company Woodside wants to drill for climate-wrecking gas in Western Australia's precious oceans.

Its Burrup Hub project is the most polluting fossil fuel proposal in Australia today. If completed, Woodside would produce gas until 2070 – a full 20 years after Australia is meant to reach net zero emissions. It just doesn't add up.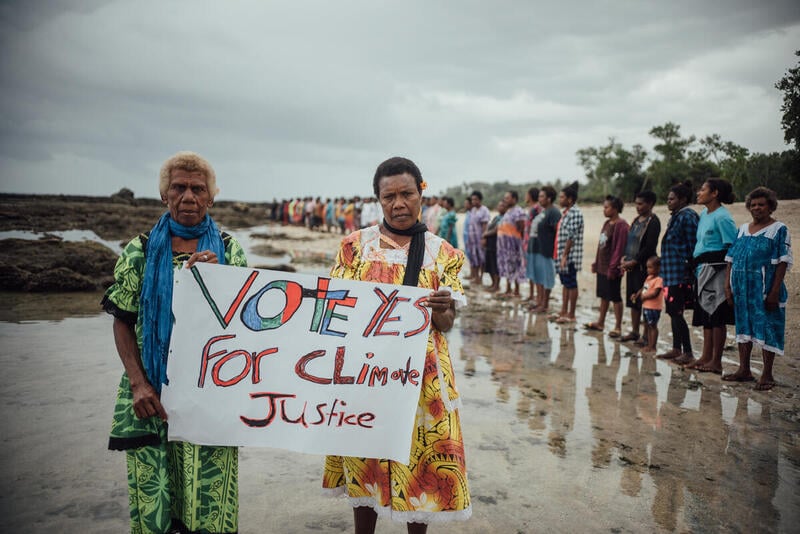 Pacific Climate Justice
Join the people of the Pacific in the fight for climate safety and justice
Pacific peoples are fighting for survival. As small islands, the effects of climate change already impact everyday life and eco-systems across the entire tropical paradise region.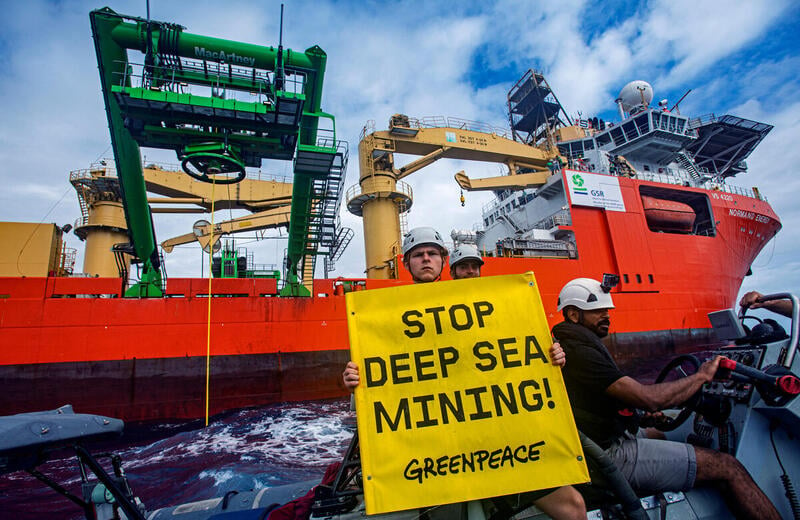 Help Stop Deep Sea Mining
Deep sea mining could pose serious threats to Pacific peoples' livelihoods and spiritual connection to the ocean by impacting fish populations and sacred ecosystems.

The good news is we can stop this industry before it's too late, but we don't have much time. Tell the Australian government to take a strong stand against deep sea mining now.
Greenpeace is 100% funded by people just like you
Did you know: We don't take any money from government or corporations, allowing us to stay fiercely independent in our fight for a greener, more peaceful future.