Fossil fuel company Woodside wants to drill for climate-wrecking gas in Western Australia's precious oceans.

Its Burrup Hub project is the most polluting fossil fuel proposal in Australia today. If completed, Woodside would produce gas until 2070 – a full 20 years after Australia is meant to reach net zero emissions. It just doesn't add up.
Woodside's climate wrecking gas expansion
Threatens marine parks and protected areas
The Burrup Hub – which includes the Scarborough, North West Shelf, and Browse projects – could impact 12 different marine parks, including Ningaloo Reef. It would put marine life at risk and lock Australia into more fossil fuels as the rest of the world shifts to cleaner, cheaper renewable energy.
6.1 billion tonnes

Over its lifetime, the Burrup Hub will belch out 12 years of Australia's emissions

54 threatened species

Dredging, drilling and seismic testing put vulnerable marine species, like whales and turtles, at risk
Frequently Asked Questions about Woodside's gas project
What is the Burrup Hub?
Woodside's Burrup Hub gas project is Australia's biggest new fossil fuel proposal. It would extract massive amounts of gas from under the ocean floor in northwestern Western Australia – with around 80% slotted for export overseas as liquefied gas (LNG). The Hub includes the Scarborough and Browse offshore gas fields, a second processing train at the Pluto onshore gas processing facility, and a 50 year extension to the life of the North West Shelf onshore gas processing facility.
Is Woodside's gas project bad for climate change?
Yes. Gas is a polluting fossil fuel that is responsible for climate change. It contains large amounts of methane, one of the most potent greenhouse gasses which traps 86 times more heat than carbon dioxide.

The latest Intergovernmental Panel on Climate Change (IPCC) report found that the world already has enough fossil fuel infrastructure to push us over 1.5˚C. To stave off the worst effects of climate change for people and nature, we must cut down our emissions and transition to clean energy – fast. Yet the Burrup Hub, if completed, would add 6.1 billion tonnes of climate pollution: 12 times Australia's annual emissions.
What about wildlife and the oceans?
Woodside wants to drill over 80 gas wells in some of the world's most biodiverse waters. If an accident were to take place, it could impact up to 12 marine parks including Ningaloo Reef.
Woodside's dredging and drilling would cut through whale migration routes and harm nesting sites for endangered sea turtles. Seismic surveying would blast sound waves through the ocean, injuring whales and dolphins. A worst-case scenario spill at Browse could decimate corals at Australia's magnificent Scott Reef, and reach as far as Indonesian waters. And the risks go on and on.
You can explore the habitat at risk in our Interactive Map and learn more about Woodside's track record of accidents and degrading infrastructure.
What are the financial risks of the Burrup Hub?
Putting more money in fossil fuels is "moral and economic madness," according to the UN Secretary General. As we move to a lower emissions world, Woodside's projects risk losing money and becoming stranded assets.

The International Energy Agency (IEA) in its Net Zero by 2050 emissions scenario has modeled a rapid drop in gas demand starting in 2030 – with a steep decline in Australia's LNG exports. Yet the Burrup Hub would produce gas until 2070.
Investors are losing confidence. In 2022, Australian industry superannuation fund NGS shed $75 million in Woodside shares due to stranded asset risk, while half of Woodside's own shareholders (49%) voted against the company's climate plan.
See our Woodside Investor Briefing for more on the financial risks and get in touch if you're a Woodside shareholder wanting to help
What is Greenpeace doing to stop the Burrup Hub – and how can I help?
Greenpeace Australia Pacific is helping build a people-powered movement big enough to take on Woodside. And every day, we're doing the legal and regulatory work behind the scenes to slow them down and make sure the dangerous Burrup Hub is never completed.
Already, with our allies, we have pushed back seismic testing on Scarborough, exposed the risks to wildlife and climate with peer-reviewed research on the projects, and pressured Woodside Directors and federal and state Environment Ministers to abandon the project.
But we still need more people with us to stop the Burrup Hub from ever being built. Will you join us? Explore the actions below to see how you can help
Together, we can expose the truth about Woodside and their polluting project
Greenpeace is committed to challenging Woodside at every step of the way – and we need you with us. Sign the petition now to tell Woodside to stop their dangerous gas project.
Signing means you will also get regular updates on the campaign, with ways that you can make a difference.
Sign petition
Tell Woodside to walk away from their toxic Gas Project.
0 signatures. Help us get to 1000000!
More information about Woodside's polluting gas project
Explore our reports and briefings to learn more about the risks from Woodside's Burrup Hub gas project.
Recent articles by Greenpeace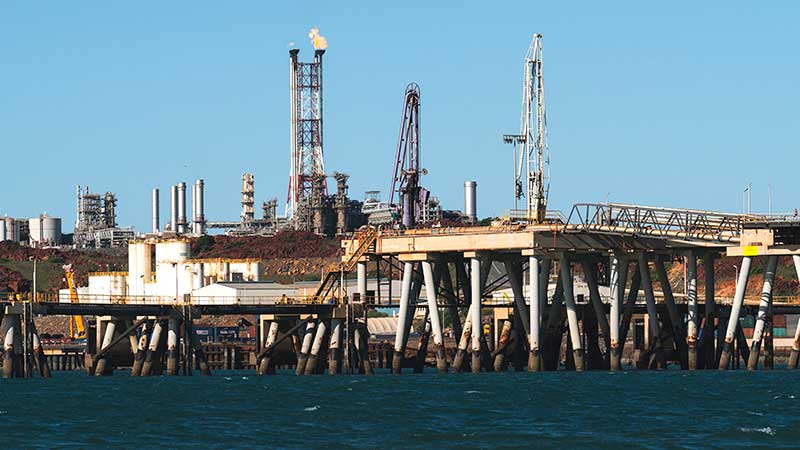 22 November 2022
What is the Safeguard Mechanism?
The Safeguard Mechanism was introduced in 2016 by the Tony Abbot government. It applies to Australia's biggest polluters - largely gas, coal, mining and manufacturing - and was supposed to stop climate change by limiting the amount of dirty greenhouse gasses they pump out. It was, to put it mildly, a disaster.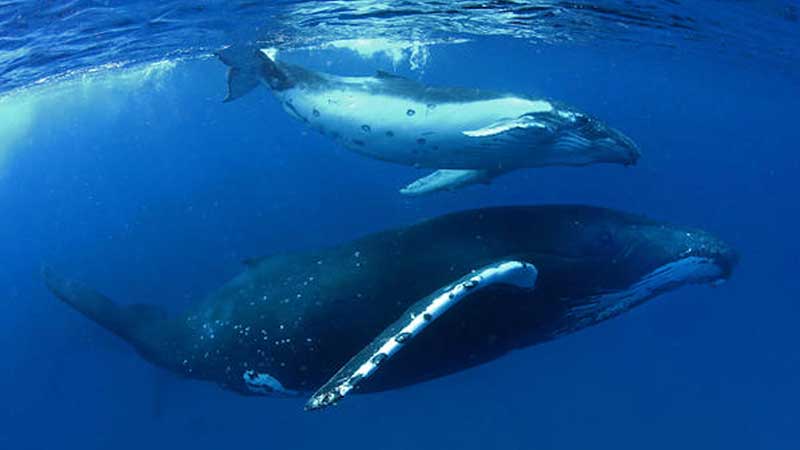 11 November 2022
Submit your comment to help stop Woodside's climate destruction
We just heard that Tanya Plibersek, the federal Environment Minister, is reviewing Woodside's bid to extend its dirty gas processing facility to 2070. That means we have until 24 November to flood the environment department with public comments on the dangerous climate impacts of Woodside's North West Shelf.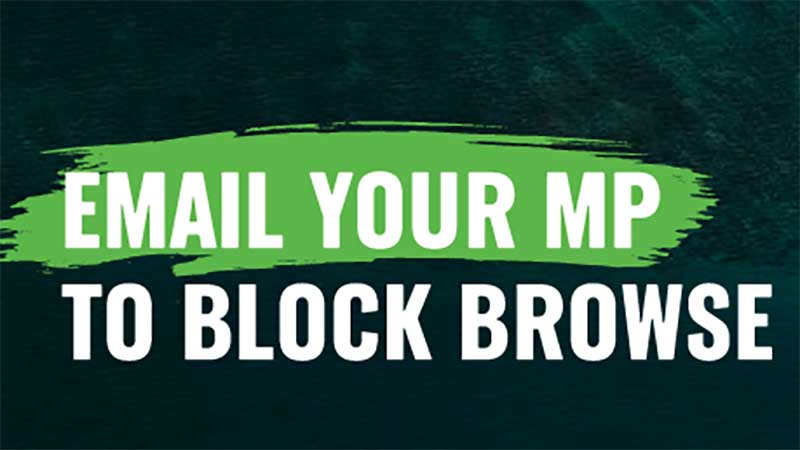 19 October 2022
Ask your MPs and Senators to #BlockBrowse
Woodside Energy has just asked the government to approve its plans for Browse, a monstrous gas field it wants to exploit off the coast of Broome. We only have a small window of time before Tanya Plibersek, the federal environment minister, decides whether to approve it – it's time to take action!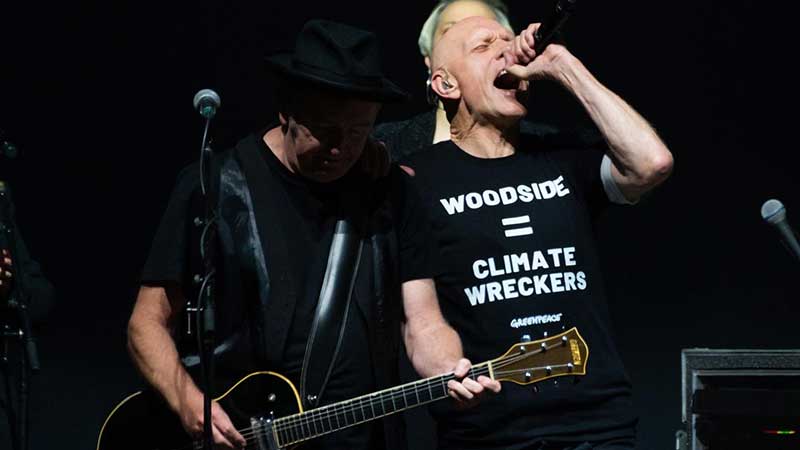 13 October 2022
Woodside's Browse project is a climate wrecker
Iconic protest band Midnight Oil had a stellar mic drop moment against Woodside. Playing to full crowds in Perth, Canberra, and Sydney, with Woodside management and politicians in attendance, the rock legends stopped their show mid-way through to slam Woodside's Burrup Hub gas project – and its newest phase, Browse.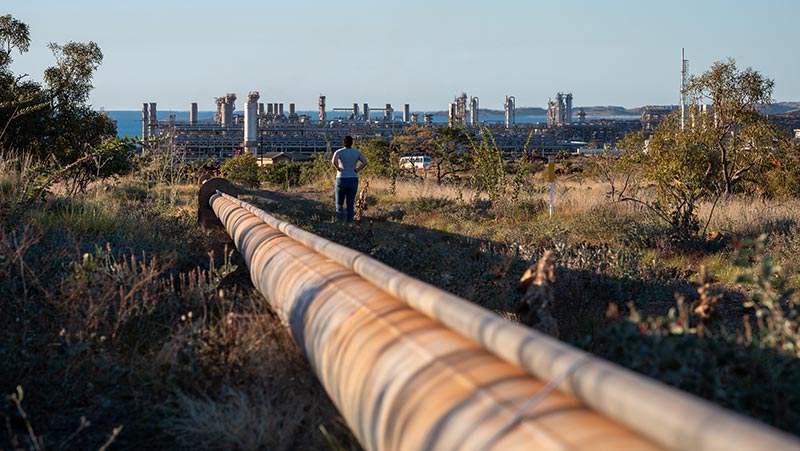 31 January 2022
As Western Australia sweats, Woodside rushes on Scarborough
Temperatures in the Pilbara, in the north of Western Australia, soared to a record-breaking 50.7˚C earlier this month. Since then, Woodside and their CEO Meg O'Neill have been ruffling together the financiers and construction partners to begin work on Scarborough: a deep sea gas drilling project that would pump gas back to those same shores, and create more climate pollution than any other Australian fossil fuel project.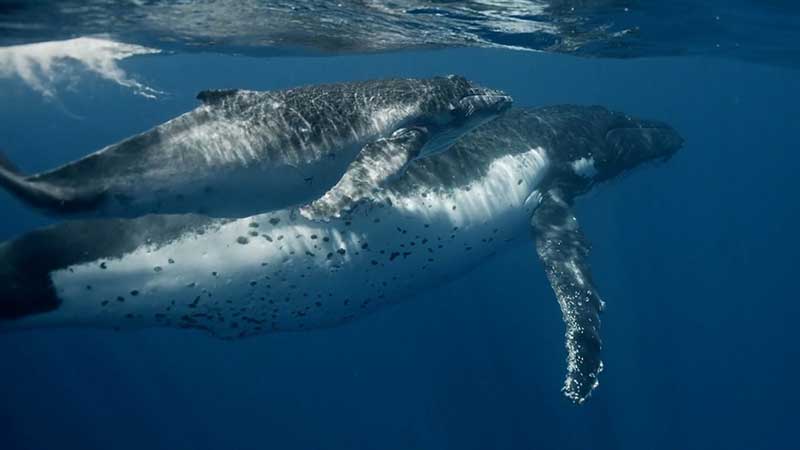 20 October 2021
Whales, Woodside and deep-sea drilling. Why we must stop the Scarborough gas project.
Fossil fuel behemoth Woodside wants to build a risky new deep-sea gas mine in prime marine habitat off the coast of WA. And honestly, it's hard to think of a worse idea.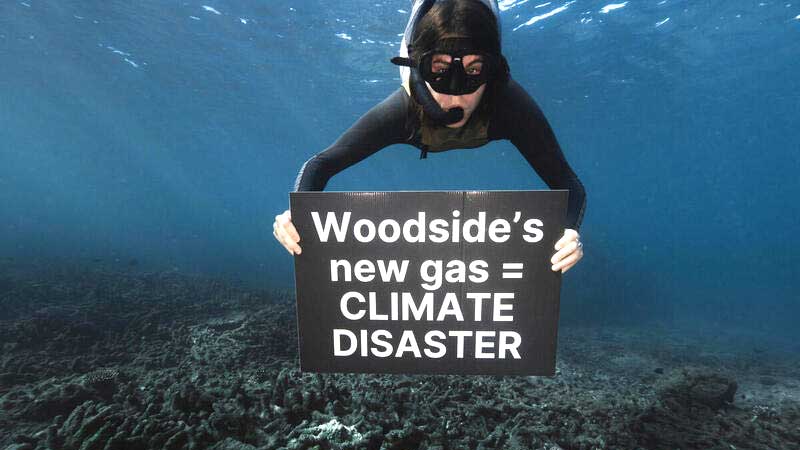 26 August 2021
What is the North West Shelf – and why does it matter?
You might have heard us celebrating a record number of appeals lodged last month against Woodside's North West Shelf extension to 2070. So what does it all mean, and why does it matter?
Greenpeace is 100% funded by people just like you
Did you know; We don't take any money from government or corporations, allowing us to stay fiercely independent in our fight for a greener, more peaceful future.