Right now, the Rainbow Warrior is in Australia and the Pacific
Follow our journey and join the campaign!
Fossil fuel giant Woodside wants to seismic blast and drill for gas in Western Australia's whale habitat. Together we can stop this.
Please sign our urgent petition today to tell Woodside to walk away from their dangerous Burrup Hub gas project - the most climate-polluting project currently proposed in Australia.
By signing this petition you give permission for Greenpeace Australia Pacific to contact you with campaign updates. Your information is safe and secure with us – for more information please see our privacy policy
Choose whales not Woodside
0 signatures. Help us get to 500000!
By signing this petition you give permission for Greenpeace Australia Pacific to contact you with campaign updates. Your information is safe and secure with us – for more information please see our privacy policy
The Rainbow Warrior and our crew helped to end whaling in Australia. Together, we can protect whales from a new threat - Woodside.
Western Australia is where it all began for Greenpeace in Australia, as part of the successful campaign against Australia's last commercial whaling station in Albany 45 years ago. Now the greatest threat to whales comes from fossil fuel companies like Woodside who are blasting our ocean for gas and fuelling climate change.
Our journey follows pygmy blue whales' migration path, travelling from Albany in the southernmost end of WA to Perth, before sailing north, past iconic sites like Ningaloo reef to the Pilbara and Kimberley coast, where Woodside wants to drill for gas.

Join our campaign today. Sign the petition or make a donation to help fund our 100% people-powered fight to stop Woodside's dangerous gas plans.
Woodside wants to seismic blast for gas in whale habitat
Fossil fuel company Woodside wants to seismic blast and drill for climate-wrecking gas in Western Australia's precious oceans. Its Burrup Hub project is the most polluting fossil fuel proposal in Australia today. If completed, Woodside would produce gas until 2070 – a full 20 years after Australia is meant to reach net zero emissions. It just doesn't add up.
6.1 billion tonnes

Over its lifetime, the Burrup Hub will belch out 12 years of Australia's emissions
54 threatened species

Dredging, drilling and seismic testing put vulnerable marine species, like whales and turtles, at risk
History of destruction

Woodside has a history of oil spills and dumping toxic trash in our waters.
Greenpeace is 100% funded by people just like you
Did you know: We don't take any money from government or corporations, allowing us to stay fiercely independent in our fight for a greener, more peaceful future.
Say NO to Woodside's dirty gas project
Email your MP to stand up for people, not big polluters
State and Federal MPs have the power to stop Woodside - but they won't act unless we let them know how we feel.
#FreeTheNippers
Sign the petition and help the grassroots campaign in Western Australia to #FreetheNippers from dirty fossil fuel sponsorship!
Get involved at #WhalesNotWoodside
Recent articles by Greenpeace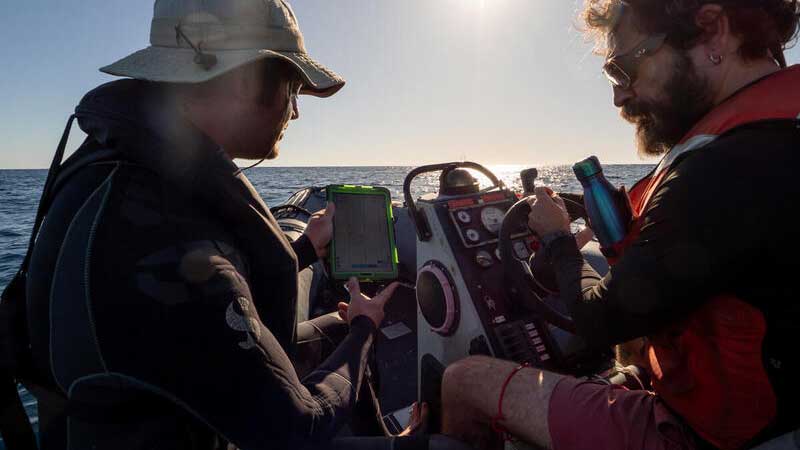 19 May 2023
Looking for Griffin
We set off at 7am, a little after sunrise. The waters were surprisingly calm - unlike my stomach, which was churning with excitement. We were looking for something no one had seen for a decade: a massive riser turret mooring, the size of an apartment block. For 25 years, it had been used to exploit an oil and gas field off the coast of Western Australia.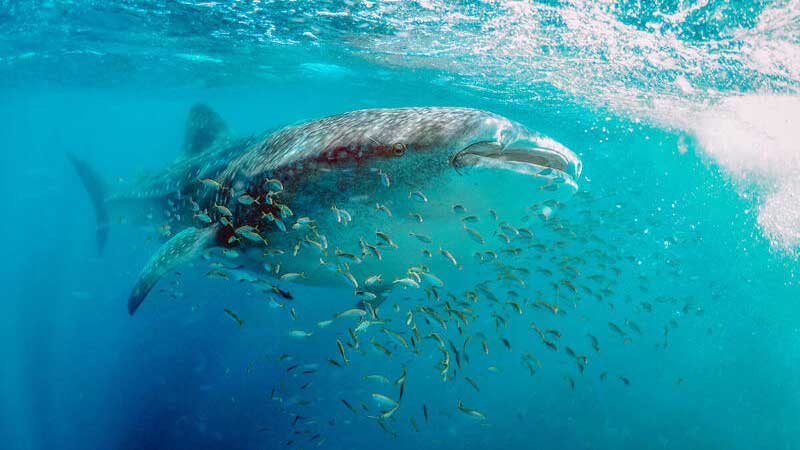 17 May 2023
Ningaloo Reef is a World Heritage treasure
The whale shark, the world's biggest fish, is what draws people to UNESCO World Heritage-listed Ningaloo Marine Park. These gentle giants congregate at Ningaloo, nestled on the Western Australian coastline near Exmouth, between March and August each year, thrilling thousands of visitors and fuelling the area's booming tourism industry.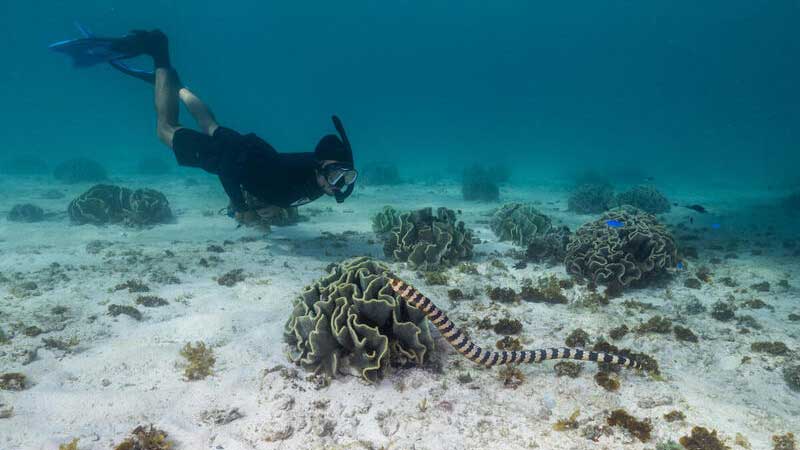 10 May 2023
Welcome to Shark Bay
Shark Bay, located at the most westerly point of Australia, is one of a handful of marine World Heritage sites across the globe. It's home to some of the planet's most extraordinary creatures, including the oldest lifeforms on Earth, as well as dugongs, turtles and, of course, sharks.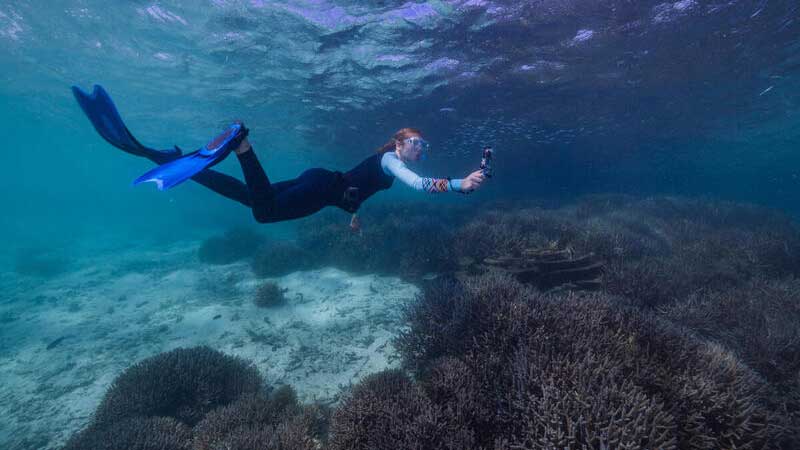 5 May 2023
The Abrolhos Islands: Coral Refuge
Often described as the Galapagos Islands of the Indian Ocean, there are few places in Australia wilder than the remote Houtman Abrolhos Islands, a marine archipelago of 210 islands off the coast of Geraldton, Western Australia.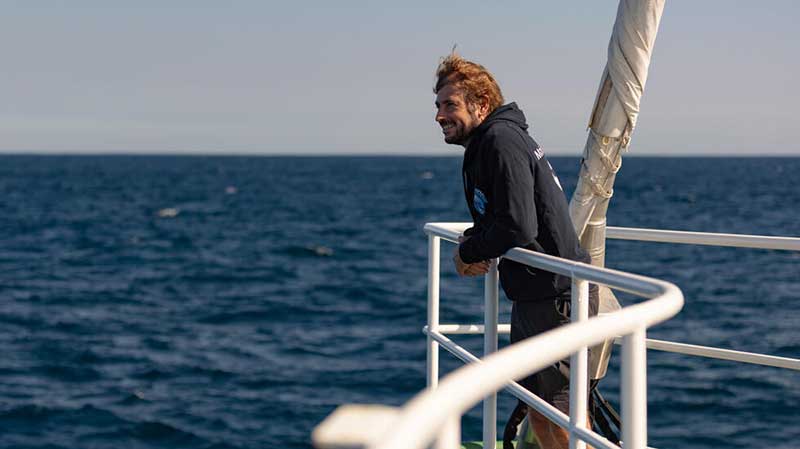 5 May 2023
Whale Spotting in Perth Canyon with Dr Olaf Meynecke
Most tourists who visit Perth make it out to Rottnest Island to visit the cute quokkas and marvel at the island's lonely wind turbine, which once attracted the wrath of former Prime Minister Tony Abbott. But just beyond Rottnest lies a much less-explored region - Perth Canyon, one of the best places in the world to spot the endangered blue whale, the largest animal on the planet.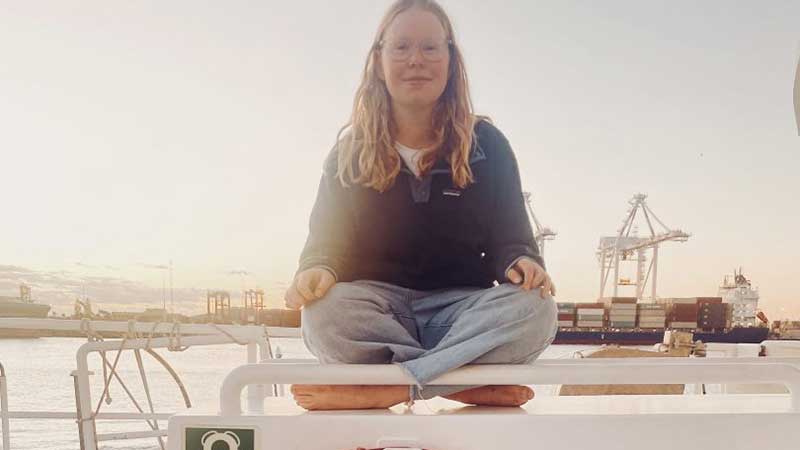 5 May 2023

Meet Emma from School Strike 4 Climate
We spoke with Emma from School Strike 4 Climate on Thursday when she visited the Rainbow Warrior in Fremantle during its Whales Not Woodside Ship Tour to learn more about how she became involved in climate activism, what motivates her, and get her thoughts on Meg O'Neil and Woodside's Burrup Hub gas expansion.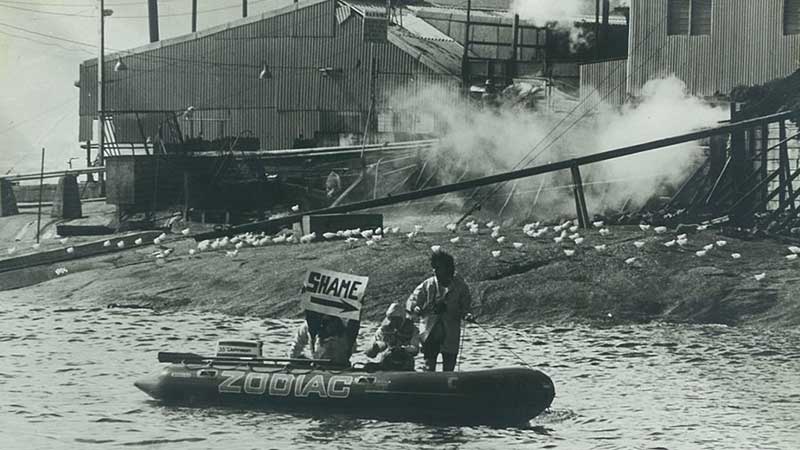 4 May 2023
Greenpeace and the end of whaling in Albany
The end of whaling in Albany marked a turning point in the fight to protect whales from extinction. In the 1970s, the greatest threat to whales was whaling. Now the greatest threat comes from fossil fuel companies like Woodside who are driving dangerous climate change.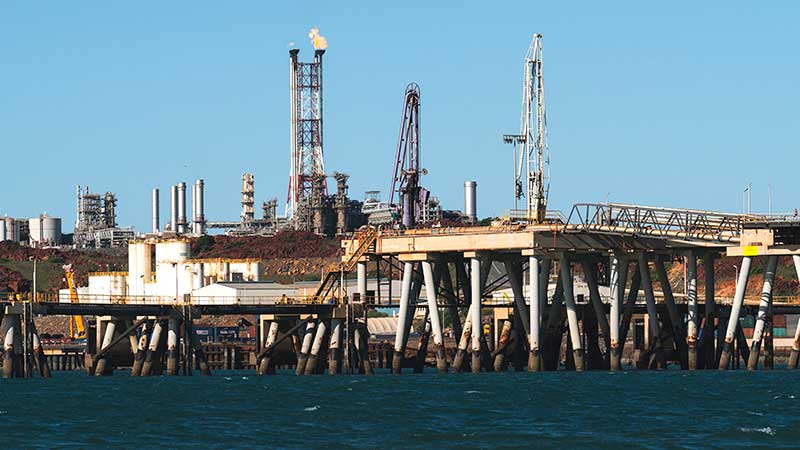 22 November 2022
What is the Safeguard Mechanism?
The Safeguard Mechanism was introduced in 2016 by the Tony Abbot government. It applies to Australia's biggest polluters - largely gas, coal, mining and manufacturing - and was supposed to stop climate change by limiting the amount of dirty greenhouse gasses they pump out. It was, to put it mildly, a disaster.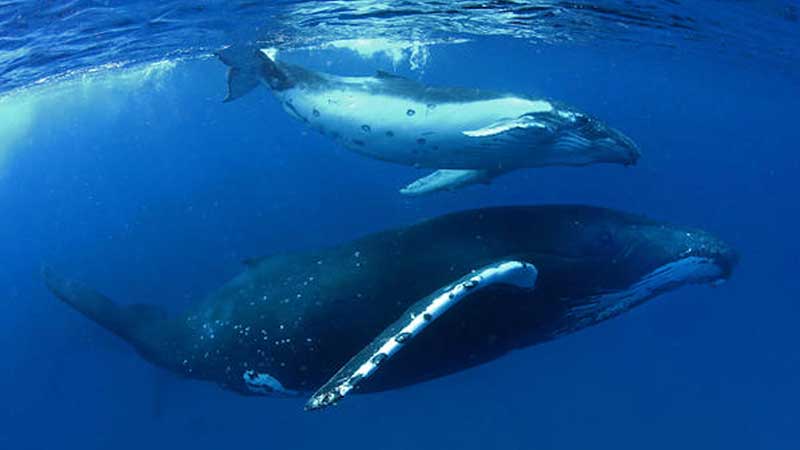 11 November 2022
Submit your comment to help stop Woodside's climate destruction
We just heard that Tanya Plibersek, the federal Environment Minister, is reviewing Woodside's bid to extend its dirty gas processing facility to 2070. That means we have until 24 November to flood the environment department with public comments on the dangerous climate impacts of Woodside's North West Shelf.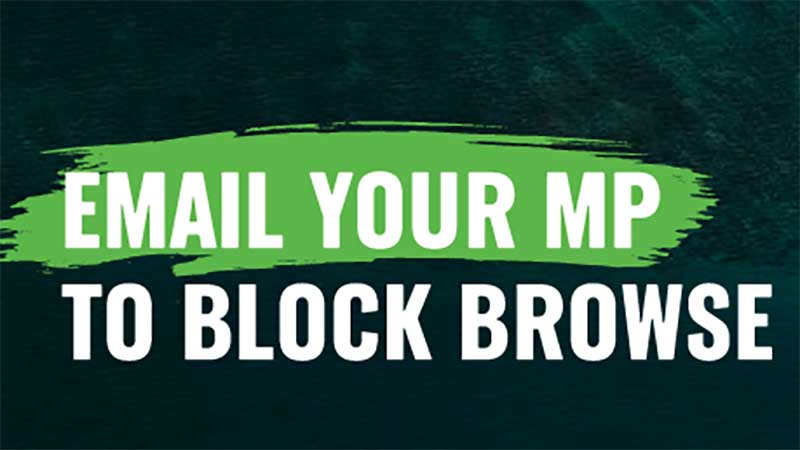 19 October 2022
Ask your MPs and Senators to #BlockBrowse
Woodside Energy has just asked the government to approve its plans for Browse, a monstrous gas field it wants to exploit off the coast of Broome. We only have a small window of time before Tanya Plibersek, the federal environment minister, decides whether to approve it – it's time to take action!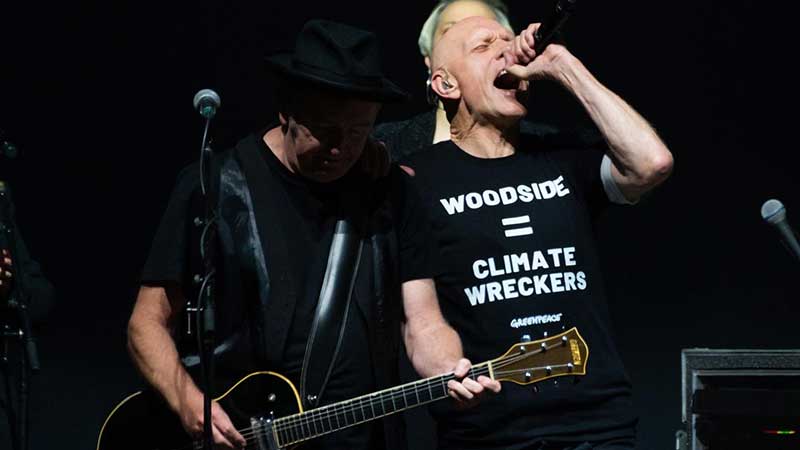 13 October 2022
Woodside's Browse project is a climate wrecker
Iconic protest band Midnight Oil had a stellar mic drop moment against Woodside. Playing to full crowds in Perth, Canberra, and Sydney, with Woodside management and politicians in attendance, the rock legends stopped their show mid-way through to slam Woodside's Burrup Hub gas project – and its newest phase, Browse.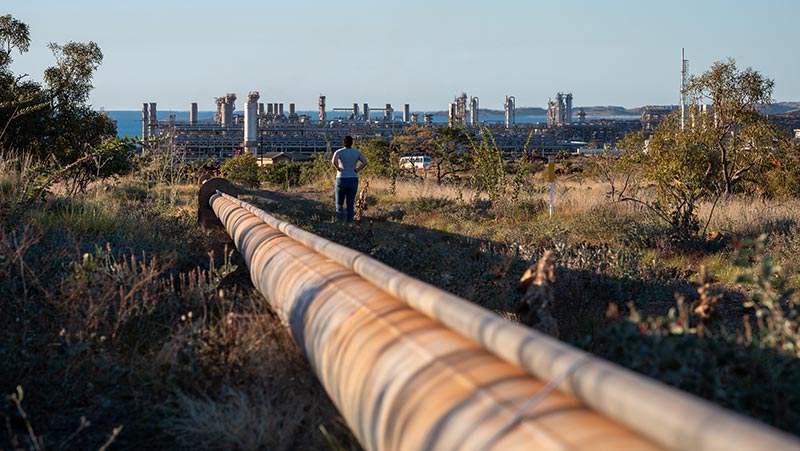 31 January 2022
As Western Australia sweats, Woodside rushes on Scarborough
Temperatures in the Pilbara, in the north of Western Australia, soared to a record-breaking 50.7˚C earlier this month. Since then, Woodside and their CEO Meg O'Neill have been ruffling together the financiers and construction partners to begin work on Scarborough: a deep sea gas drilling project that would pump gas back to those same shores, and create more climate pollution than any other Australian fossil fuel project.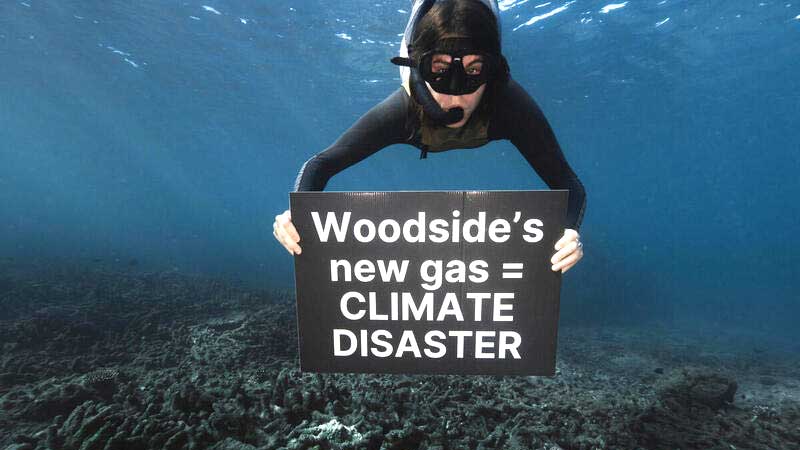 26 August 2021
What is the North West Shelf – and why does it matter?
You might have heard us celebrating a record number of appeals lodged last month against Woodside's North West Shelf extension to 2070. So what does it all mean, and why does it matter?
Keep up-to-date with the latest news from the Rainbow Warrior
By signing you give permission for Greenpeace Australia Pacific to contact you with campaign updates. Your information is safe and secure with us – for more information please see our privacy policy
By signing you give permission for Greenpeace Australia Pacific to contact you with campaign updates. Your information is safe and secure with us – for more information please see our privacy policy