It's time for businesses to get in the fast lane and electrify their cars and trucks!
Companies have a significant role to play in driving down Australia's transport climate pollution – but they're not moving fast enough!
Electrifying fleets is good for the planet, good for communities, and good for business.
Because fleets are a major contributor to the second hand car market, electrifying company fleets means more EVs for everyday Aussies – and quieter, cleaner roads for every community.
Many of Australia's largest companies have yet to commit to renewable-powered electric fleets. Sign the open letter now to steer them in the right direction!
After signing, share the case to electrify fleets with your network on LinkedIn to keep the electrify conversation going.
Sign our open letter
Add your name to our open letter to tell Australia's biggest businesses to clean up their transport by making the switch to renewable-powered electric cars and trucks.
Dear Australian companies,
Transport is Australia's third largest and fastest growing source of climate pollution, and over 40% of new car sales each year are purchased for fleets. Corporate fleets are responsible for about 3.9 million cars on the road here, with just 1,000 companies responsible for 1.5 million vehicles.
Australian businesses play an important role in influencing transport pollution, and have a big opportunity to clean up our roads. This means making strong commitments to electrify your transport and power it with renewables.
As customers, employees and investors of your businesses, we are calling on you to commit to:
Only buy battery electric cars, vans and utes by 2025, and set a target for 100% electric by 2030
Commit to zero emissions trucking by 2040, starting with light trucking by 2030
Set matching targets in supply chain contracts and work with suppliers to meet them
Continued reliance on fossil fuel vehicles is harming our health and our future. It's time to switch to electric vehicles which are better for the planet, communities, and good for business.
Please lead the way towards a cleaner, healthier future by committing to renewable-powered electric vehicles in your fleets
Open Letter | Electrify Fleets
By signing, Greenpeace Australia Pacific may contact you with campaign updates and how you can get more involved. You can unsubscribe at any time. Your information is safe and secure with us – for more information please see our privacy policy.
Why should businesses
electrify their fleets?
| | |
| --- | --- |
| | Lowering emissions |
| | Save on costs |
| | EVs for all Australians |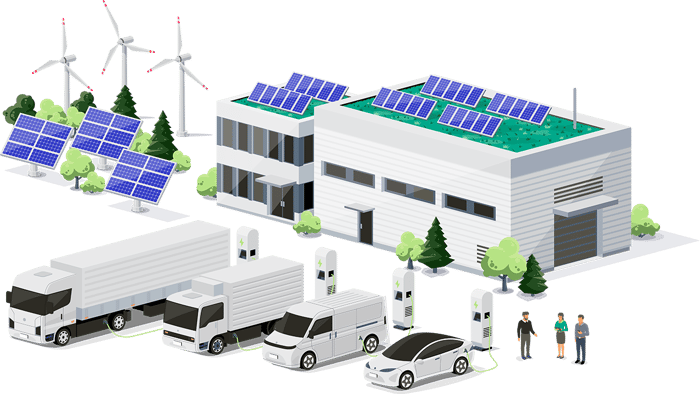 Have a question about electric fleets? We're here to help.