vote for
climate justice

#ENDORSETHEAO
vote for
climate justice
#ENDORSETHEAO
VOTE FOR CLIMATE JUSTICE

#eNDORSETHEAO
Will you take action to help make it happen?
The impact of climate change on human rights could go to the International Court of Justice for the first time ever!

An International Court of Justice Advisory Opinion would bring people from the Pacific Islands, and other people dealing with the adverse impacts of climate inaction, a step closer towards climate justice.
What is an ICJAO and what will it achieve?
The International Court of Justice (ICJ) is the highest court in the international legal system and has two kinds of jurisdiction: contentious and advisory.
Advisory Opinion's are legal advice provided to the United Nations or a specialised agency by the International Court of Justice.
On May 5th, 2022, we joined a powerful coalition of Pacific and global civil society groups (Alliance for a Climate Justice Advisory Opinion [ACJAO]) to support an initiative of the most climate vulnerable nations, to have the human rights impacts of climate change and youth voices considered by the International Court of Justice. We anticipate a vote on the resolution at the end of this year.
The 2018 IPCC report on 1.5 degree warming confirms that unless drastic action is taken globally to reduce greenhouse gas emissions, Pacific Islands Countries will cease to exist.
This is our chance to protect our basic human right to life, water and sanitation, food, health, housing, self-determination, cultures and development.
This is our chance to protect the legacy of our ancestors and the survival of our descendants.

An ICJ Advisory Opinion - although non-binding - would carry legal weight and moral authority that could help shape international law, and also influence domestic and regional courts and tribunals when addressing issues relating to climate change.
Together we are calling for world leaders to support a world first legal opinion on the impacts of climate change on human rights and we appeal to people everywhere, especially those whose human rights are already being affected by climate change, to add your voice to this call.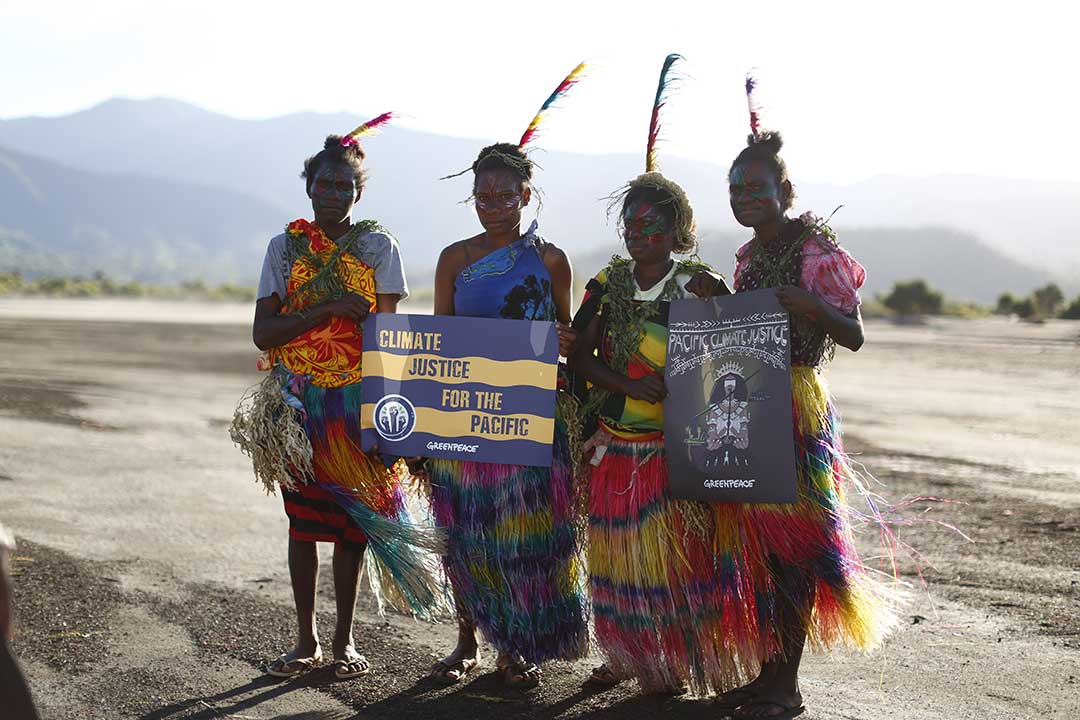 Climate justice advocates at Mount Tanna, Vanuatu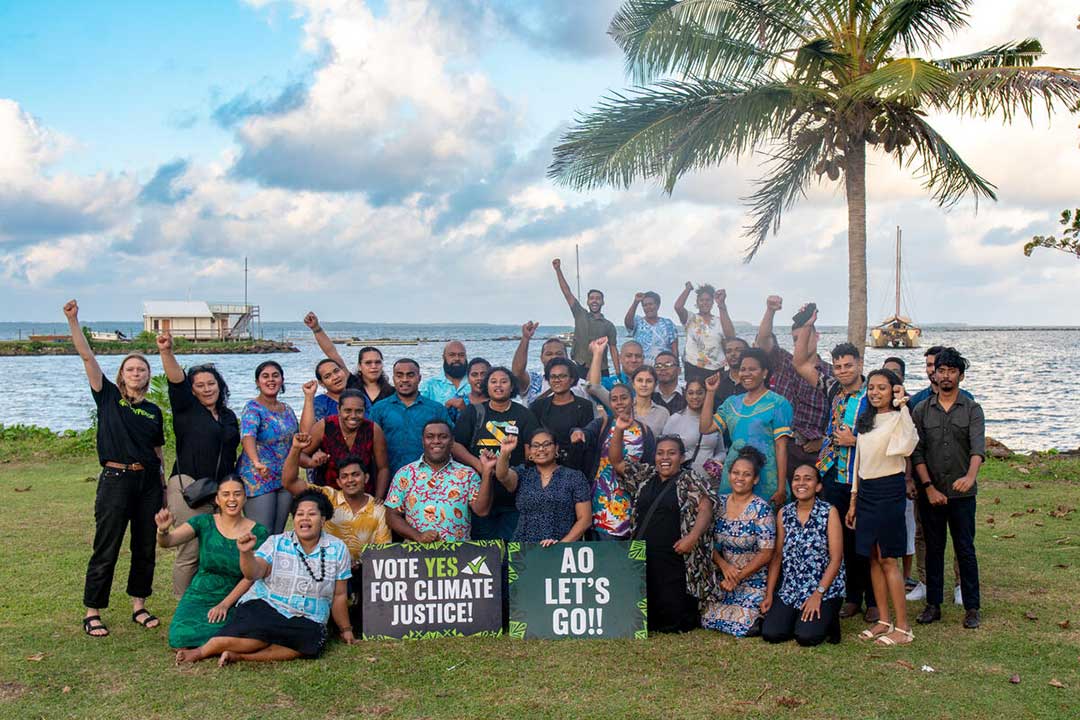 ICJAO Alliance Members at mobilisation training in Suva, Fiji. The training was held in the lead up to the Pacific Islands Forum (PIF) in Fiji, where activists will call on PIF leaders to endorse an advisory opinion on climate change from the International Court of Justice.
Benefits of an Advisory Opinion
Cement consensus on the science behind climate change
Lead to more ambitious action under the Paris agreement
Integrate climate law and human rights law
Provide baselines for state action
Guide local, regional, international adjudications.
We need people around the world to stand with us, to give us the best chance at winning a legal opinion on human rights and climate change, and to help keep our homes and lives safe. Will you

sign our open letter to world leaders

, demanding that they support this landmark case?
INTERNATIONAL COURT OF JUSTICE -
ADVISORY OPINION CHAMPIONS
Taking Pacific Climate Justice to the UN General Assembly
24 October 2022

Wow, what a journey we have been on with our Pacific Island activist team. After months of training around the Pacific and mobilisations across 12 countries (and on our very own Rainbow Warrior ship), our rockstar GPAP team joined youth and Indigenous activists for an action in New York to encourage world leaders to #VoteYes for climate justice at the UN General Assembly.
An advisory opinion by the International Court of Justice can clarify how existing international laws can be applied to strengthen action on climate change, protect people and the environment and save the Paris Agreement.

A rocky start

What this trip revealed is that no matter how much planning you undertake, there are always issues you cannot anticipate.

In the hours leading up to the long flight from Fiji to the USA, we met our first challenge.

Whilst on his way to the airport, one of our youth activists was involved in a bus accident just 10 minutes outside of Nadi Town. Fortunately he has since been discharged and is steadily recovering at home however it meant that he was unable to continue his journey to the UN General Assembly. Although this was a huge blow to the team, Fane and Broderick reluctantly said their goodbyes and boarded the next flight to New York a few hours later.
New York! New York!

After some much needed rest, from travelling 10 hours across the globe, Fane and Broderick joined our energetic Volunteer Coordinator, Shiva (who had travelled to New York a few days prior) for a briefing with the Pacific Island Students Fighting Climate Change and other activists on the actions for the week.

It's worth noting that this journey started in 2019 when a group of law students from around the Pacific Region, first made a presentation on climate change and the impacts on human rights. It has, since then, prompted more than 1500 civil society organisations and several Governments to join hands with the Vanuatu government in its quest to "clarify the obligations states have under international law to protect the rights of the present and future generations against the adverse impacts of climate change" through a legal opinion from the International Court of Justice.

After a full day of banner preparations and sewing, our team set off at 6am the next day for a Flotilla Action.

Our team were honoured to be welcomed to Country/Land by Owl and Mukaro, who are First Nations elders from Ramapo Munsee Lanape Nation and Taino Tribal Nation, along with volunteers from other cultural backgrounds who joined in solidarity with, and for, the Pacific's call for climate justice.

First, we sailed down Newton Creek, as an homage to the climate justice fight that New Yorkers have been fighting for decades. More commonly known as the Greenpoint oil spill, it was here that in 1979, an estimated 17 to 30 million gallons of petroleum spilled in the area over 140 years.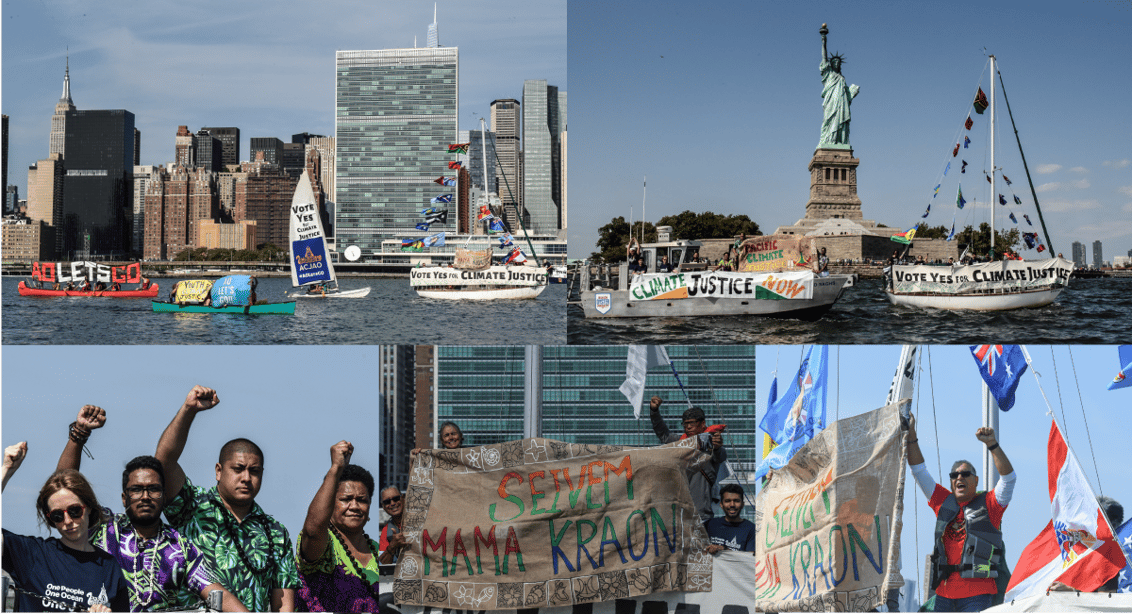 As we sailed down the New York East River towards the UN Headquarters for the second part of the flotilla action, we honoured our ancestors, people and lands with our Pacific chants,songs and dances and called on world leaders to uphold climate pledges made in Rio de Janeiro, Kyoto and Paris.
Vinaka vakalevu and tagio tumas to our coordinator Monica who ensured that our Pacific and first nations people were able to board the larger boats in order to proceed to the Statue of Liberty for the last action of the day.

The next day, we joined a Climate March with "Fridays for Future" where approximately 2000 young activists from around the world joined hands to call on world leaders and demand climate justice. Broderick took charge and led the chanting and music for the Pacific and ACJAO.


It was an emotional experience for our Pacific and First Nations activists, knowing that, in that moment, our struggle for the survival of future generations had reached the hearts and minds of so many across the globe.


Climate Justice Camp
As Broderick and Fane travelled back to Fiji, Varanisese, who was part of our Pacific training program, joined the 350 Youth activists in Tunisia for the The Climate Justice Camp. The week-long camp was attended by over 400 youth climate representatives from over 65 countries around the global south and focused on building intersectional solidarity and developing pathways towards long-term political and systemic change around climate adaptation, justice, access to energy, and loss and damage associated with the disproportionate impacts of the climate crisis.



Although it's still unclear when exactly a vote will take place, this journey to New York and Tunisia was critical in ensuring that Pacific and frontline communities are visible and that our voices are heard.

We will continue on this journey and ask everyone to join our Pacific vaka (canoe) in pursuit of climate justice.
Global Week of Action for Climate Justice
2 September 2022

On August 13th, youth and civil society organisations gathered around the world, to stand in solidarity with our Pacific family and champion support for the International Court of Justice Advisory Opinion (ICJAO) campaign, taking the world's biggest problem to the world's biggest Court. At the UN General Assembly in September this year, Vanuatu will be asking members to support its resolution asking the ICJ to give an Advisory Opinion on human rights and climate change - and they need our support!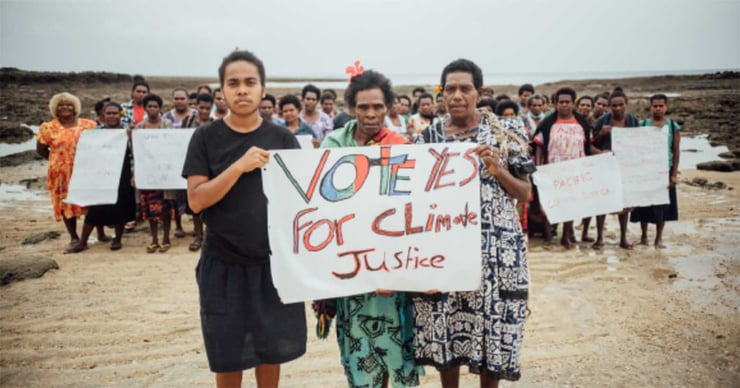 In Sydney, Australia, supporters were honoured to witness cultural performances from First nations and Pacific people, and Greenpeace Australia Pacific Activist and Volunteer Coordinator, Shiva Gounden shared a few words on what an Advisory Opinion would mean for Pacific peoples and frontline communities.

"What we are asking is for the International Court of Justice to clarify what states need to do at a minimum to protect the rights of both current and future generations from the adverse effects of climate change."

"In doing so, the Advisory Opinion will strengthen existing international processes and spaces" and "It will be the strongest clarification any judicial body can pronounce on the existential threat of the climate crisis and what nations must do."

"We thank you for your support on this journey. The week of Global actions with our Vuvale (family) from across the world has been truly empowering."
In Fiji, Greenpeace Australia Pacific, as part of the Alliance for a Climate Justice Advisory Opinion (ACJAO), was joined by around 70 volunteers from around the country, to clean the Nukuwatu shorefront, just outside the Fiji's capital (Suva), and this was followed by a solidarity march along the stretch of Lami town.

"We are here today, as part of a global alliance/family that is calling on nations around the world to join us, to vote YES for climate justice" – Senior Campaigner, Sepesa Rasili

"In our Pacific communities, the climate crisis impacts our human rights everyday – daily lived experience. It continues to affect our source of livelihood, our health and our environment. This activity is an opportunity to amplify our voices." Rasili said.

And in Vanuatu, approximately 100 women from various villages in Tanna, gathered to learn more about the ICJAO. The day was filled with open discussions and a training activity that gave space for the participants to curate & add their own voices to the call for climate justice.

If there is power in the world to save humanity from an environmental disaster, it is the power of the people.

The endorsement of the ICJAO campaign, by all member states at this year's Pacific Islands Forum, along with the support from CARICOM Countries, is proving that this is a fight that is shared by frontline communities around the world. This is our chance to protect our basic humans, our cultures, the legacy of our ancestors and the survival of our descendants.

We invite you to add your voice to this call. Sign our petition and come aboard our canoe on this journey.
Demanding Climate Justice for the Pacific
18 July 2022

Taking the world's biggest issue to the world's highest court - the International Court of Justice!
This week Pacific leaders converged on Suva in Fiji for the Pacific Island Forum (PIF), and they arrived to a chorus of youth and civil society led actions and mobilisations demanding climate justice for the Pacific!

High on the agenda was the Pacific Island youth led campaign for the world's first advisory opinion from the International Court of Justice on the impacts of climate change on human rights.

In an exciting and historic development, Leaders from the region (including Australia and New Zealand) have expressed their support for an advisory opinion on climate change from the International Court of Justice.

This endorsement is a significant step of united regional support for the ICJAO and we invite people from around the world to join our "vaka" as we sail towards the UN General assembly in September.

Watch the video below to understand some of the impacts of climate change on communities in Fiji.
Mobilisation and training
As part of the ICJAO official Alliance, led by the Pacific Islands Students Fighting for Climate Change, Greenpeace Australia Pacific have run training sessions to skill-up and activate young climate champions in Fiji and Vanuatu.

At a powerful 2 day training session in Fiji which included Pacific prayers, story-telling, traditional tapa/masi art and banner making, Siva Afi dance, talanoa, PIF action planning, campaign outline and updates and messaging. All the sessions during the two day training were rooted in cultural connection and Pacific strength and unity. The Vanuatu training is being delivered this week in Port Vila, Vanuatu. The art and banners created were used in our PIF action (below), and will embark on a voyage across oceans to the UN General Assembly and COP27.

Watch this video to experience the behind the scenes and indulge in the training atmosphere with our absolutely amazing and talented campaigner Sina Suliano.
Pacific Solidarity Festival
We are one people, one ocean, on one journey! That was the Pacific's message to the world when we gathered with students, climate activists, and civil society from across the region at the University of the South Pacific for our on the water action.

We coordinated boats, canoes, and SUPs along the coastline to reveal an over-water banner, with a chain of participants onshore and in the water joining with banners and chants calling on leaders to support the ICJ Advisory Opinion.

This is just the beginning of the Journey and we will continue to work with our Alliance partners to take the Advisory Opinion to the world!
What next?
After that, it's time to take this unity global! With your help we must win the hearts and minds of people and leaders across the world in order to secure a simple majority of votes at the UN General Assembly to achieve this crucial legal opinion which could:
(1) Cement consensus on the science behind climate change
(2) Lead to more ambitious action under the Paris Agreement
(3) Integrate climate law and human rights law
(4) Provide a baseline for state action
(5) Guide local, regional, and international adjudications
(6) Center and elevate Global South and Pacific voices – critical given the particular vulnerabilities of Pacific Islands peoples to climate change impacts which they have not caused
We wanted to share with you a snapshot of the on-the-ground mobilisations that Greenpeace Australia Pacific has supported and which have helped to pave the way for this important step towards the Pacific's journey towards climate justice!
What next?
The ICJAO campaign is building and capturing the hearts and minds of people across the globe. Media interest in the campaign has escalated rapidly and we have been on the ground in Suva training up incredible youth spokespeople from the region and coordinating media and messaging. Here's a sample of just some of the coverage coming out of the region this week:
Climate impacts mapping and storytelling
In parallel to the ICJAO media and mobilization efforts, our team has begun to gather compelling stories, photos and videos from across the Pacific Islands that document the short and long term impacts of climate changes on human rights.
It is our hope that we may in future enact the support of the Rainbow Warrior to weave together stories from other Pacific Island communities to share with the world the unique threats to culture that are being faced, but also the need for collective response on the journey towards climate justice.
Thanks for helping us to get this campaign to where it is!
In hope!
Sepesa, Sina, Kiti, Shiva, Steph, Maddison and the rest of the Pacific team