Everyday we lose 25 Orangutans
Donate today to help save the Orangutans and stop deforestation from dirty palm oil
Your account will be debited today, then every subsequent 4 weeks. Get in touch with us to arrange an alternative date.
Your generous one-time gift helps fund our campaigns for a better and greener future.
We need you with us to save the orangutans
Your ongoing support is the most effective way to contribute by helping us with long term campaign goals. We need to act now to stop orangutans forest home being destroyed to clear the way for palm oil - an ingredient used to make products for brands like Unilever, Mondelez and Nestlé. Without forests, orangutans are on the brink of extinction. It has to stop.
Here is what's happening in Indonesia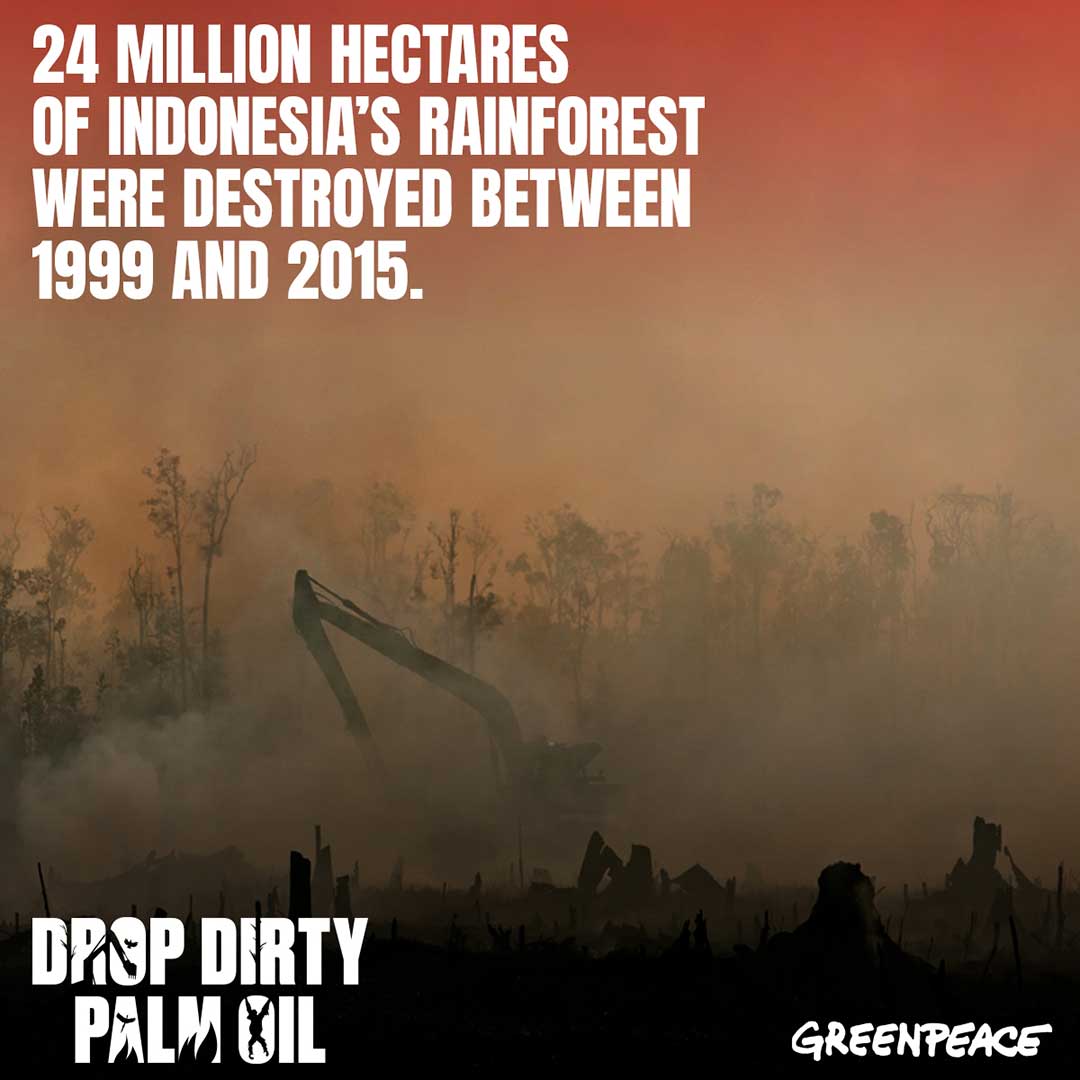 Why are orangutans endangered?
Bornean and the Sumatran orangutans spend the vast majority of their lives in the trees of tropical rainforests which have the food and shelter necessary for the continuity of their species. Unfortunately, they are falling victim to widespread deforestation.

Forest fires are often deliberately lit to make way for oil plantations, wreaking havoc for helpless Orangutans which are as a result, being pushed closer and closer to extinction. Already listed as critically endangered, we estimate that in the past 20 years more than 150,000 orangutans have disappeared through deforestation or human conflict.

Studies show that at this rate our wonderful cousin will be extinct within 10 years if we do nothing to save this natural habitat.
Why save

the orangutans
A keystone species
Orangutans play a vital role in the good health of their ecosystem by making up the rainforest, acting as a natural 'gardener', spreading the seeds of the fruit that they eat. If this species were to disappear, many other animals and plants sharing these rainforests could face a similar fate.
Humans at risk
Additionally, forest fires used to deforest don't only put orangutans at risk : the smoke created causes devastating air pollution in a region with thousands of air pollution related deaths including children and the elderly.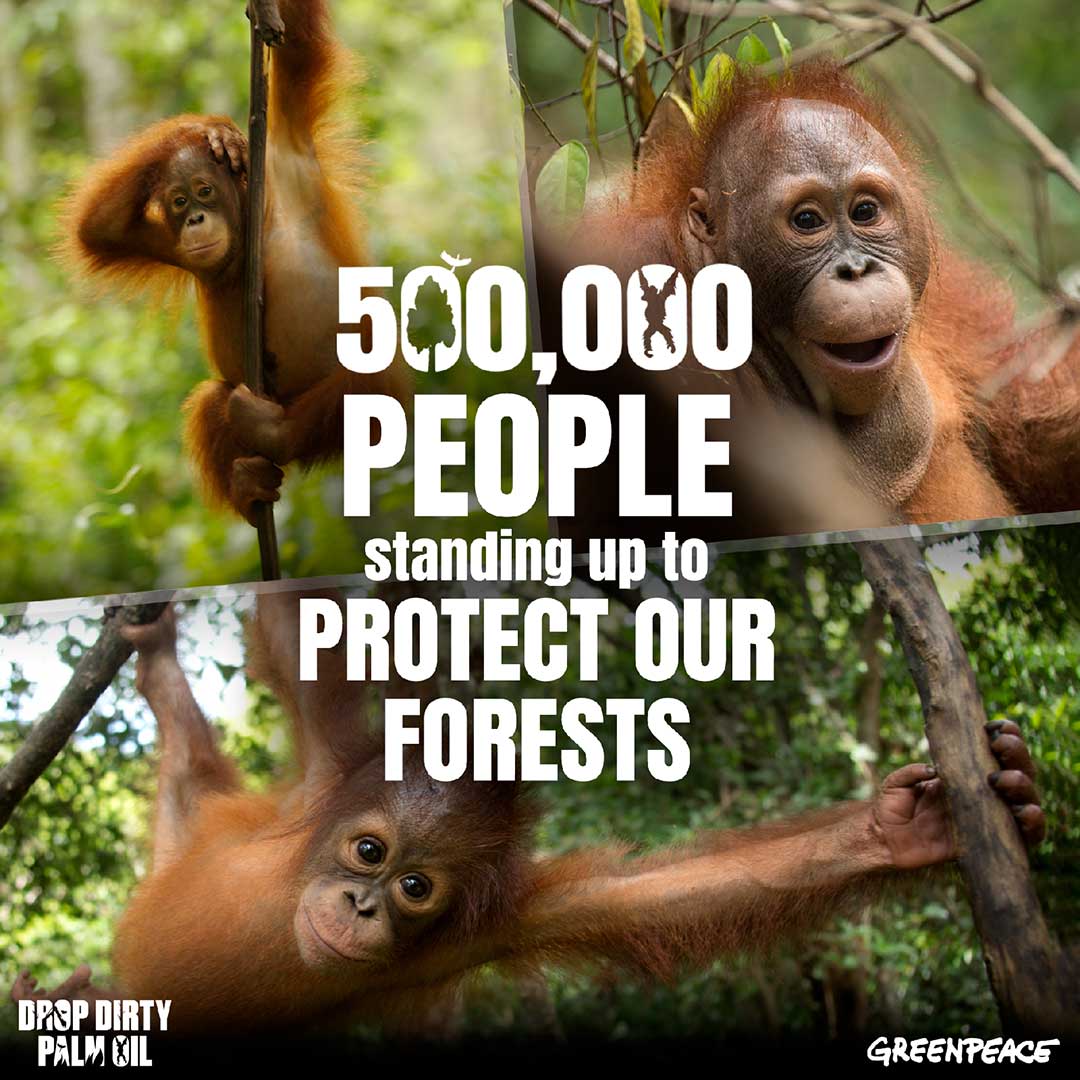 By donating to help protect the orangutans habitat, we then also save humans and the whole rainforest ecosystem.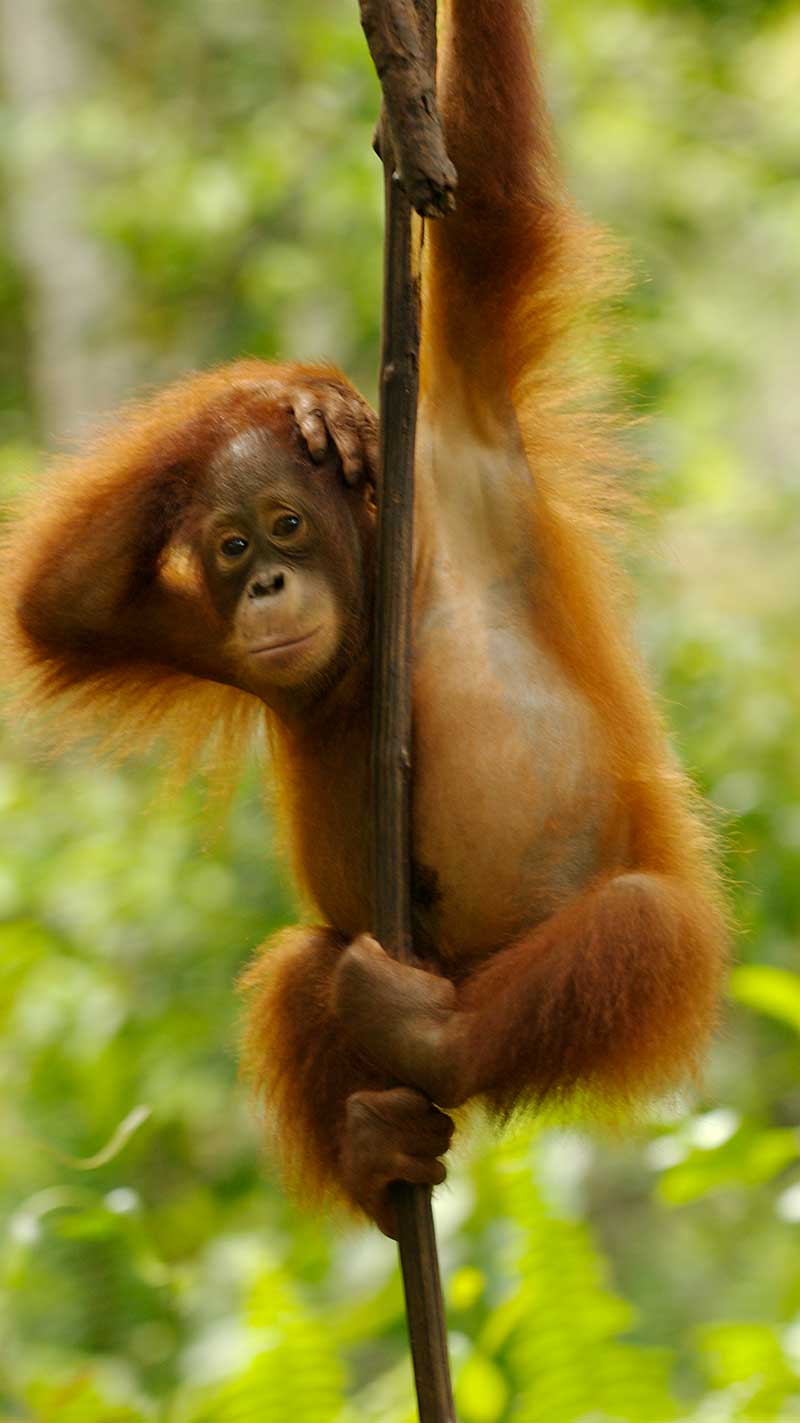 Three facts about orangutans
Orangutans live on two islands
They can only be found on the Southeast Asian islands of Borneo and (northern) Sumatra. Unfortunately, these same islands are critically impacted by palm oil companies.
Only 3 species, one newly discovered!
We already knew the Borneo orangutan and Sumatra orangutan but in 2017 another species was discovered: the Tapanuli orangutan. All three species are all endangered, mainly through deforestation.
Parenting
Female orangutans only give birth every 6 to 7 years and to only one offspring at a time, thus any damage done to their population can take decades to recover.

Helped stop AGL's dodgy demerger
This year we helped push energy giant AGL, Australia's biggest climate polluter, to ditch its planned demerger that was designed to prolong the lifespan of polluting coal. Together we grew investor opposition that resulted in AGL pulling the plug on the demerger plan.

Pushed big corporates to cut emissions
May this year, Telco giant Optus become the final major Australian telco to commit to switch to 100% renewable electricity. Together we have pushed 21 major companies from Coles and Woolworths through to Bunnings and Kmart to commit to power their businesses with renewable electricity by 2025.

Saved the Bight from oil drilling
In 2020, after a relentless campaign, the Norwegian oil giant Equinor withdrew its plans to drill for oil in the Great Australian Bight. This comes after Chevron and BP also withdrew their plans thanks to the pressure from Greenpeace and local communities.