Buskers, beards and clean energy
by
19 November 2018
This week Victoria goes to the polls, and the future of renewable energy and the climate is on the line. That's why it's absolutely crucial that voters know exactly where the parties stand on the big issues.
We commissioned a special report which shows what the policies of the three major parties will mean for energy prices and our environment. Here are the key takeaways:
The Coalition's energy plans will result in both the highest power prices and the highest emissions of the three major parties.
A re-elected Labor government would deliver the steepest reduction in

Victorian

 wholesale electricity prices.
The Greens would oversee by far the sharpest reduction in carbon pollution.
It's damning confirmation that an electricity system driven by dirty coal is the worst of all worlds, driving up power prices and climate-wrecking carbon pollution.
Read the full report: Electrifying Victoria
We also commissioned some cheeky images to help people understand what the different party positions mean on the big issues:
Share this graphic on Facebook or tweet the news!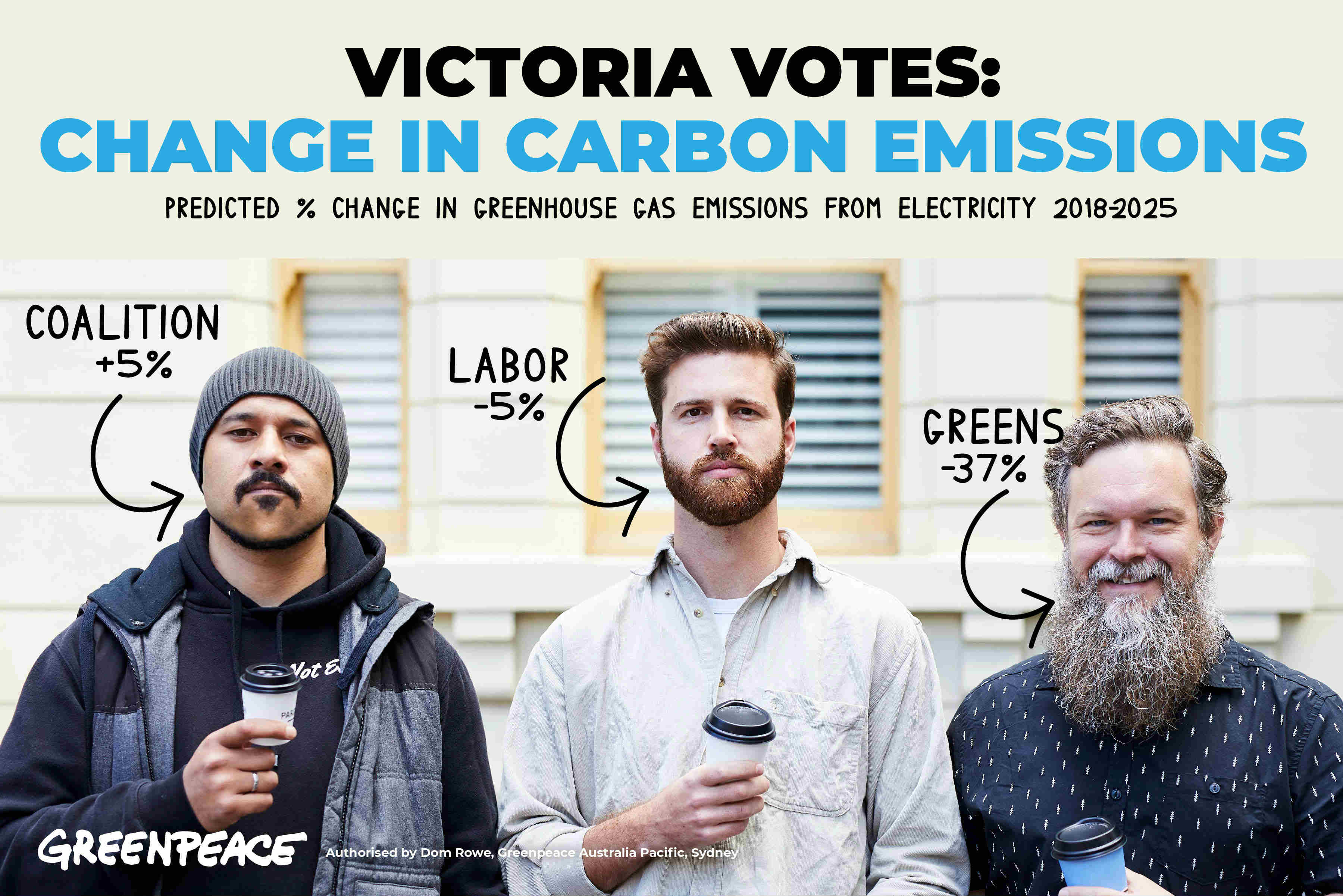 Share this graphic on Facebook or tweet the news!
Share this graphic on Facebook or tweet the news!
77% of Victorians want an ambitious clean energy target. [1] But Liberal Opposition Leader Matthew Guy is threatening to simply ignore that and demolish Victoria's hard-fought clean energy progress if elected. It's a senseless position that betrays the Coalition's ideologically-driven obsession with fossil fuels and climate change denial.
In Wentworth last month, voters sent a message loud and clear to our leaders: climate inaction is no longer an option. And with the major parties watching closely ahead of key elections next year – at state and federal level – theVictorian vote is our opportunity to show that Wentworth was no flash in the pan.

Share this graphic on Facebook or tweet the news!
Here's the thing. Right now we're moving in the right direction in Victoria. The transition from dirty fossil fuels to clean and reliable renewables is underway, and our state's renewable energy target promises to create 9000 jobs, bring down your power bills and cut climate-wrecking pollution.
This is hard-won progress. Let's not let it slip.